MSI KT4V-L (MS-6712)
By Robert Jon Cox

Last Updated: 03/31/2011 08:27 Created on: 11 January 2003
---
My SECRET WEAPON!
Close-up KT4V-L Mainboard Tray Hole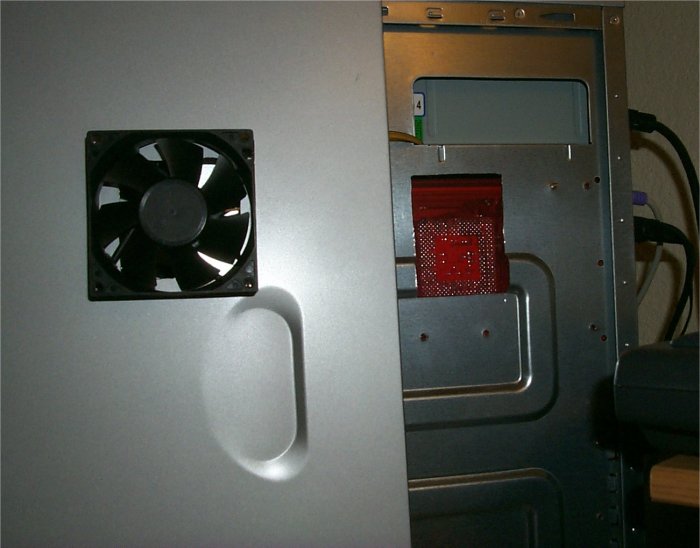 As you can see....I cut a hole in the Mainboard Tray directly behind where the CPU sits on the opposite side of the Mainboard. With my right side 80mm fan installed over the hole....my temps have dropped another 4c with my Volcano 9 running at just below 4000 RPM ~ resulting in a 41c CPU idle temp!

---

KT4V-L Right Side 80mm Fan & Mainboard Tray Hole
Here is another shot of my right side fan....and Mainboard Tray hole.... This modification of my case appears to have had a significant impact on my CPU temps. The air behind my mainboard is now being moved.

The Pix above also shows the blow-hole (EXHAUST) I cut out of the top of my case (with 80mm fan)....
Now that you've seen my PC pix and heard my plans.....I would appreciate your comments. Thanks!
Return to Main Page
---
Honor the Missing in Action and Killed in Action of Taffy III
We do remember. We won't forget.
---
Robert Jon Cox - webmaster@bosamar.com
Last revised July 12, 2008
Copyright © 2003-2007 all rights reserved
Void where prohibited.