The model featured above was shown
publicly for the first time at the WRAM
Remote Control Show in New York City.
It won Best of Show - Boat Division.
The model is ten feet, six inches in length,
and weights 120 pounds without ballast.
More photographs
Avalanche Press released this
Leyte Gulf board game as part of
their Second World War at Sea series.
There are 22 scenarios, five of them
battle scenarios that use only the tactical
map, and 17 operational scenarios.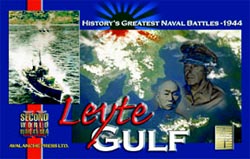 Well-known ships like the destroyers
Johnston and Hoel, the escort carriers
of Taffy III, and the Japanese super-
battleship Yamato are all present.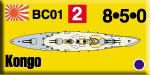 On the left is a sample game piece.
This comprehensive game includes:
•25x25 inch tactical map
•Three 35x24 inch operational maps
•2,170 game pieces
•24 page series rule book
•24 page scenario book
•Two player aid cards •Six organizational cards