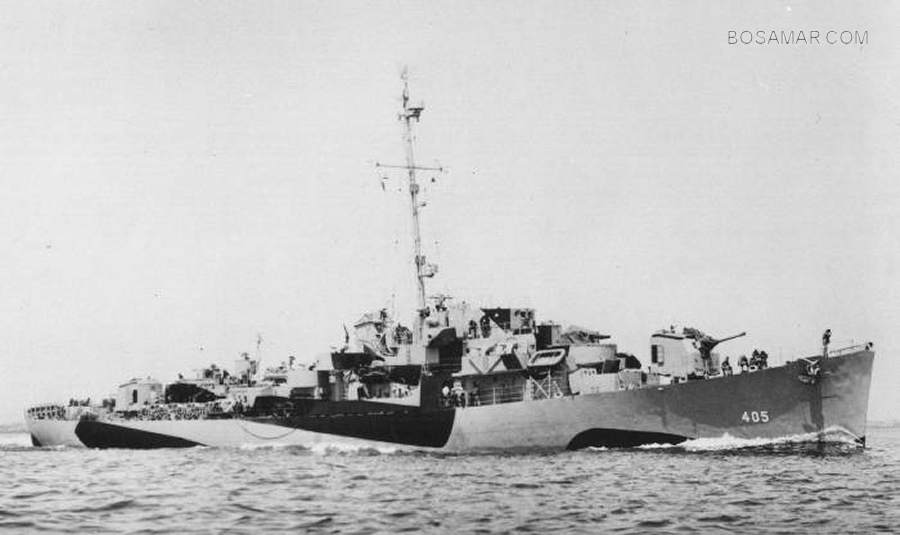 U.S. Navy Photograph
USS DENNIS (DE 405)

When the second torpedo attack was ordered by RADM Sprague, DENNIS responded and was able to approach to within four miles of the Japanese heavy cruiser column. She chose the heavy cruiser HIJMS TONE as her target and missed with all three torpedoes. In a role more suited for the larger destroyers, she challenged several Japanese cruisers in gunfire duels and was damaged heavily by 8-inch shell hits. Four of her crew were lost in action.
Crew List
Action Report
Call-sign
MONGREL
Class
JOHN C. BUTLER
Also known as a WGT (Westinghouse Geared Turbine) Class DE
Displacement
1,350 tons
Length
306 feet
Beam
36 feet 8 inches
Draft
9 feet 5 inches
Speed
24 knots
Complement
186
Armament
2 5-inch GP guns
4 40mm AA guns
10 20mm AA guns
3 21" torpedo tubes
Hedgehog ahead throwing weapon
8 depth charge throwers
2 depth charge racks
Laid Down
15 September 1943
Launched
4 December 1943
Commissioned
20 March 1944

Namesake Information
Otis Lee Dennis was born March 25, 1913 in Scottsville, Kentucky. He enlisted in the Navy on October 25, 1940. Radioman Third Class Dennis was cited posthumously for his heroic conduct as an aerial gunner in the initial attack on Kwajalein, in which he was killed in action on February 1, 1942.
Career
USS DENNIS (DE 405) was launched on December 4, 1943 by Brown Shipbuilding Company, Houston, Texas. She was sponsored by Mrs. Dennis, mother of the late Radioman Third Class Otis L. Dennis, and commissioned on March 20, 1944. LCDR S. Hansen was her Commanding Officer.
Campaigns
First Duties
DENNIS arrived at Pearl Harbor on June 19, 1944 to escort a convoy to Eniwetok and Kwajalein. She returned to Eniwetok on July 29 screening BELLEAU WOOD (CVL 24).
Morotai - September 1944
Joining the Fifth Fleet, she escorted Carrier Division 22 to Manus for exercises, then sortied with Task Force 77 on September 10 to supply air support for the landings on Morotai Island from 15 to 27 September.
Leyte Gulf/Samar - 17 to 25 October 1944
From October 12, DENNIS prepared to screen the escort carriers supplying the air cover for the invasion of Leyte. She was assigned to Carrier Division 26 with sister DE JOHN C. BUTLER. The unit sortied from Manus with the escort carriers KITKUN BAY and GAMBIER BAY. Arriving at Leyte on October 17, they soon joined Carrier Division 25's four escort carriers and three FLETCHER class destroyers and two more BUTLER Class destroyer escorts. The combined unit was designated as Seventh Fleet Task Unit 77.4.3, radio call sign, Taffy III.
The task unit operated routinely off the east coast of Samar until 0658, October 25, when the Imperial Japanese Navy Centre Force placed the American warships under fire. "...Quickly laying down a heavy smoke screen, the gallant ships of the task unit waged battle fiercely against the superior speed and fire power of the advancing enemy...." At 0742 the destroyer escorts were ordered to attack a heavy cruiser column with torpedoes. At 0750 DENNIS received word again and she turned northward to engage the Japanese warships.
Operating independently, the small 1,350 ton warship approached the much larger 12,000-14,000 ton Japanese warships under a hail of large caliber 8-inch shells. By 0759 she had approached to within 8,000 yards of the enemy heavy cruiser column consisting of HIJMS' HAGURO, TONE, CHOKAI, and CHIKUMA. DENNIS' commanding officer, Lieutenant Commander Hansen, chose the second ship in line as her target and loosened her three torpedoes. All of her fish ran hot, straight, and normal, but all missed. With her primary weapons gone, she turned southwest at maximum speed to rejoin the fleeting escort carriers. On her return, her #2 5-inch gun shot back at the approaching Japanese. By 0809 DENNIS was able to join up with TU 77.4.3 destroyers HEERMANN and JOHNSTON, and sister DE SAMUEL B. ROBERTS.
At 0840 the escort carriers were once again in danger of being flanked by the Japanese heavy cruisers. Rear Admiral Sprague ordered the destroyer escorts to engage the enemy warships. DENNIS and BUTLER, on the starboard quarter of the CVE's, crossed the formation and joined the attack on the leading cruiser with 5-inch gunfire. Shortly thereafter, her #2 5-inch gun mount became inoperative due to a broken breach. DENNIS remained in action with her remaining gun.
Fighting on unequal terms all morning long, DENNIS was eventually hit by an 8-inch armor-piercing shell shortly after 0850. It punched a clean hole through her thin hull, from port to starboard, just above the waterline. The damage control party in the CPO Quarters was killed instantly and the forward ammunition magazine was flooded. At 0900 three more 8-inch shells from the heavy cruiser HIJMS TONE found their mark on DENNIS. One shell destroyed her 40mm director, the next made a relatively small hole in her port side aft and cut electrical cables. The last shell hit the #1 5-inch gun mount. Shortly after 0902, DENNIS turned into JOHN C. BUTLER's smoke screen to make repairs, with both of her 5-inch guns out of action. During the remainder of the battle, DENNIS was utilized to lay protective smoke.
DENNIS rescued 434 survivors from the kamikaze-bombed SAINT LO (CVE 63). For this and the surface action she shared in the Presidential Unit Citation awarded to Task Unit 77.4.3. Arriving at Kossol Roads, Palaus on October 28, she sailed three days later for the west coast, arriving at San Francisco on November 26 for overhaul.
1945 and Okinawa
Returning to the forward area DENNIS departed Guam on February 16, 1945 for the invasion of Iwo Jima, patrolling off the island until March 8, when she sailed to escort a convoy to Ulithi. On March 21, she proceeded to join a carrier group launching air strikes in preparation for the invasion of Okinawa. She remained with the carriers as they gave close support to the invasion forces ashore.
Final Duties
Again she performed rescue services on May 4, saving 88 of the crew of SANGAMON (CVE 27), a kamikaze victim. She served on radar picket duty at Ulithi from May 9 to June 3, then returned to Okinawa to join the Third Fleet for strikes against the Japanese mainland until June 26.
From June 30 until the end of the war DENNIS escorted convoys among Ulithi, Okinawa, the Philippines, and New Guinea. After the war she escorted landing craft to Okinawa, then departed Leyte Gulf on October 14 for the west coast, arriving at San Diego on November 6. She was placed out of commission in reserve on May 31, 1946.
USS DENNIS (DE 405) received four Battle Stars for her service in World War II.
Source: Dictionary of American Fighting Ships, Vol. III, 1968, Navy Department, Office of the Chief of Naval Operations, Naval History Division, Washington, D.C. and The Battle Off Samar - The Tragedy of Taffy III, by Robert Jon Cox, 1996